For Rent, For Sale
- Office, Retail Lot, Shop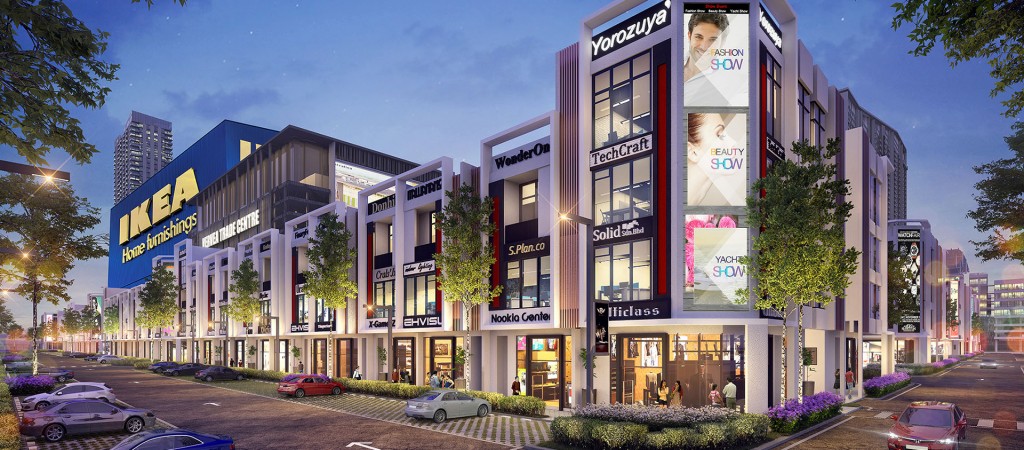 The first phase of the Aspen Vision City master plan, Vervea comprises a vibrant collection of versatile commercial shop offices complemented with a host of business-centric features. Billed as the largest gated and guarded commercial precinct in Penang, Vervea covers a massive 35-acre site with prominent visibility.
Setting new standards in large-scale, holistic commercial developments, Vervea consists of 441 units of 3 and 4-storey shop offices with the added edge of business-enhancing amenities such as ample parking space, a 300-metre covered High Street, strategically-positioned external linkages and many more.
Easily accessible from the Second Penang Bridge, North-South Express Highway and other major roads, Vervea enjoys a continuous flow of high-value customer traffic from both Penang Island as well as the mainland. Business establishments also benefit from being neighbours with the popular IKEA store, an incomparable commercial advantage that takes the potential of Vervea to the next level.
Overview of Vervea
At 300 metres in length, Vervea's High Street will stand as the longest and biggest covered walkway in Southeast Asia. Managed by Aspen Group the walkway will become the main artery for many attractions ranging from outdoor events and street-show galore.
Featuring an ETFE roof and strategically-placed jet fans, the interior of the High Street will be bathed in warm, natural lighting while you enjoy Al Fresco dining along the spacious corridors of Vervea High Street. With jet fans providing ventilation and fresh circulating air throughout for a more wholesome and enjoyable experience of an array of crowd-attracting activities.
To complement the High Street, Vervea's Main Street also has its pulling factors. With units of Vervea fronting the main road, be the first to be sighted by visitors to Aspen Vision City. Strategically located at the landing point of the Second Penang Bridge, the Main Street will definitely be the main attraction to what Vervea has to offer. With a modern façade and full glass frontage, business owners can expect better exposure and higher traffic volume.
Aptly named, Vervea's Business Street can be considered the busiest street with the units along it being the nearest to the Vervea Trade Centre which sits at the top of the multi store carpark facility. With a business nature so versatile, be at the centre of attraction of visitors who will visit the Vervea Trade Centre in throngs with the many lined up trade exhibitions that are set to take place.
e – Concierge Services
A one-stop mobile platform for services such as food ordering, ride-hailing, maid/cleaning services, etc
Smart Meter Ready
Brings higher accuracy in the measurement of electricity consumption and ease of remote usage monitoring.
Smart Office Automation
An Energy and cost effective facility for business owners to remotely control the functions of office.
Smart Digital Signage
Merchants can leverage on real-time data including human and vehicle traffic to maximize advertising potential with effective campaign.
Smart Surveillance & Security
Able to conduct real-time search and tracking of people, objects or vehicles and unusual activities for safety and security purpose.
Smart Parking
Drivers at Vervea can look forward to a more enjoyable and stress-free drive, with the system's ability to reserve empty lots.
Smart Healthcare
A one-stop e-portal that connects doctors and patients. Users are connected to their panel medical centres and can contact a preferred clinic/hospital directly through their mobile app.
Suction Waste Management Solution
Apt and timely collection for disposal through Waste Management optimization based on your preference, providing ultimate convenience.
Unified Communications
as a Service (UCaaS),
brings all type communications together to be seamless among different platforms, devices and purposes such as messaging, telephony, video conferencing, call routing and many more. It's possible via a unified cloud user interface. UCaas is extremely cost-efficient, flexible and scalable, making it the ideal way of integrating and managing communication platform of the future.
For enquiries, please contact :
Eugene Lee
+60164438933
ltc.eugene@gmail.com
https://wa.me/60164438933