For Sale
MYR11,000,000 - Heritage, Terrace
FOR SALE : ADJOINING HERITAGE HOUSE
Property Type : 3-adjoining terrace shop-house

Address : Lebuh Muntri, Georgetown

Land Size : 7,908.77 sq ft

Tenure : Freehold

Title : Residential

Asking Price : RM 11,000,000 (ono)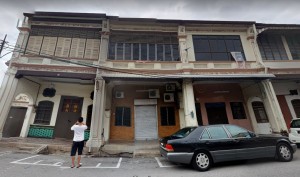 Two of the major hospitals in Penang were founded here, namely Lam Wah Ee Hospital in 1883 and the Penang Adventist Hospital in 1924. The original Lam Wah Ee Hospital building was destroyed during the Second World War, and was replaced with a later structure that is still standing today, until the hospital shifted to its present located along Jalan Tan Sri Teh Ewe Lim. Nonetheless Muntri Street is still remembered by the locals as Lam Wah Ee Kay, or Lam Wah Ee Hospital Street.
The original building for Adventist Hospital is still standing today, at the junction of Muntri Street and Leith Street, and today houses Lum Fong Hotel.
Muntri Street was named after the 19th Century Menteri of Larut, Ngah Ibrahim. A number of trade guilds from the bygone era are still found here, among them the Penang & Province Wellesley Cafe Association formed by Hainanese coffeeshop owners, Penang Restaurants and Tea Shops Association, Penang Goldsmith Association, among others. The Cantonese district association Wooi Ning Wooi Koon is also located here, as is King Wan Association, a trade union for shopkeepers and clerks – the name "King Wan", which was chosen after the original association got banned, means "warning the stubborn".
The original building for Adventist Hospital is still standing today, at the junction of Muntri Street and Leith Street, and today houses Lum Fong Hotel.
* Source : Penang-traveltips
For viewing, please contact :
Eugene Lee
+60164438933
https://wa.me/60164438933
ltc.eugene@gmail.com